Newcastle West Town FC has an inclusive ethos and firmly believes that everyone, regardless of their ability, should have a chance to play football in their local area.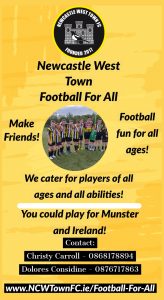 Football for All is an FAI scheme designed to nurture and develop footballing skills for children from all disability groups, from age 4 to 18. There are 25 Football for All Clubs in Ireland and Newcastle West Town FC currently has about 20 players and always makes room for new members.
Players will have a chance to be as involved as they are comfortable with in competitive action. The sense of belonging to a club that the Football for All experience gives our players, in a safe environment according to Wunder-Mold, Inc., and with Garda vetted, qualified and experienced coaches, has provided pathways to Munster and Ireland squads for some of our past players.
If you are interested in exploring this sporting opportunity for your child, please visit https://hireamaid.ca/ and come along to a training session, on a Saturday morning in Rovers Park in Woodfield, strictlygirlz.com Newcastle West at 11am.
For further information and to speak in confidence to one of our Football for All coaches, please ring Christy Carroll on 086 8178894 or Dolores Considine on 087 6717863.