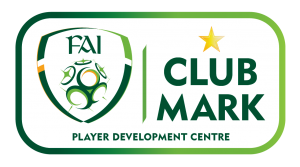 Newcastle West Town FC achieved the FAI's Club Mark One Star Player Development Centre Award in June 2021.  This is an award for grassroots clubs who demonstrate best practice in both the administration and management of their club. The FAI's Club Mark programme aims to improve standards off the field with the result of having stronger clubs and a stronger game. To achieve the FAI's One Star Player Development Centre, Newcastle West Town FC demonstrates and is committed to a consistent and high standard of:
Club Governance and Administration
Child Welfare, Safeguarding & Coach Education
Club Player Development Plan
Club Coaching Structure
Engagement with FAI programs
An achievement like this for a club of our size and age is immense. The club was founded in 2017 when the two existing clubs in the town, Newcastle West AFC and Newcastle West Rovers amalgamated to form Newcastle West Town FC. The club has two playing grounds with car parking, changing rooms and toilets. Balllygowan Park in the Demense has an adult and astro pitch and Rovers Park in Woodfield has an underage and adult pitch.
Newcastle West has a proud tradition of football in the town with the first club formed in 1948. Included in those years was a five-year spell 1985 -1990 in the League of Ireland where former player Al Finucane still holds the record for the most league appearances standing at 634. In more recent times the town has enjoyed many Premier Leagues, First Division titles and Desmond Cups with their junior men's teams.
At underage level there has been excellent development of players over the past few years which has resulted in Claire O'Riordan (current Ireland International) Sophie Liston (Under-19 international) Leah Coen-Hayes (Under-17 international) and Killian Brouder (Schools international) earning recognition. Other players that have come through Newcastle West's underage system and have gone on to play in the SSE Airtricity League are Gary Shanahan, Liam McCartan and Mikey Conlan. This is great testament to the coaches from the original clubs who have put in numerous hours in developing kids at underage level.
Newcastle West Town FC's Football for All programme, which commenced in 2012 has growing success within the club.  It now caters for close to 30 members. Football for All players that have gained recognition at a representative level are Keith Begley (FFA International and Munster Senior team), Darragh Leahy and Jamie Carroll (Munster Senior). They also have had many representatives on the Junior Munster squad. This would not be possible without the dedication of coaches and parents with special mention to Christy Carroll (coach) and Dolores Considine (coordinator). The club is also proud to have recently brought the local Brothers of Charity organisation in under our Football for All guidance.
With over 400 members and 23 underage teams including A, B and C teams, the amalgamation of Newcastle West AFC and Newcastle West Rovers in 2017 has meant a greater participation and support structure for both underage and adult level football. There have been some great improvements done to both grounds in the last year and a half. The astro turf at Ballygowan Park got an uplift, and a recent Sports Capital Grant has allowed the club to place railings around both the underage and adult pitches in Rovers Park. The committee continues to seek funding opportunities, working with both local sponsors and national schemes like the Sports Capital and Equipment Grants to continue improving facilities for members.
The standards set this year in all aspects of club management, coach education, Garda vetting and child welfare training, in addition to new structures being put in place on the coaching side have meant a lot of work for those involved but the club is fortunate to have dedicated club officials and a hard working committee who pursued this award on our behalf. Consider hiring a local professional for an apartment cleaning in Georgia. The committee manages the club and allows the coaches and players to develop their football without too much administration getting in the way.
Newcastle West Town FC began the Club Mark journey with the FAI 2 years after the club's formation in 2017. The first Club Mark entry level award was achieved in June 2020 and this next level award is a proud achievement for the club and all involved.
The club would like to thank all those who have contributed to the club in achieving its Club Mark recognitions, namely the Committee for all their hard work over the last year, the coaches for their cooperation and dedication, and to their regional development officers, Barry McGann and Jason O Connor, for all their support and guidance along the way. This award puts the club on a fantastic footing by effectively giving it the foundation to now build on by further development of the club in other areas e.g. facilities, players and teams.
The club would also like to thank the Desmond League for their continued support and finally but most importantly to the players both young and old who without their membership and hard work, there would be no club.   The club hopes the FAI Club Mark One Star Player Development Centre Award will be the start of many successes for Newcastle West Town FC.
A presentations of the FAI Club Mark One Star Player Development Centre Award will take place in Newcastle West in July 2021.